How to Transfer Contacts from Android to iPhone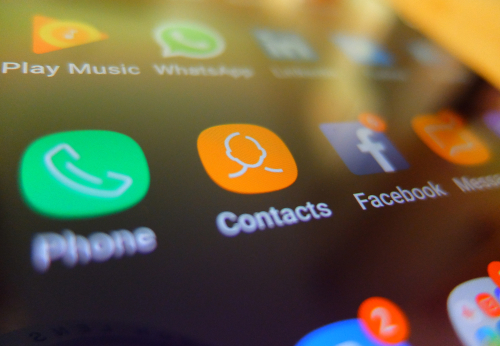 Learn how to transfer contacts from Android to iPhone with a few taps and a single app.
Android and iOS devices sit as two separate leaders atop the mobile hierarchy. Due to their market positions and relative capabilities, Apple and manufacturers of Android devices like Samsung and Google will always be seen as competitors. However, there are times in life when even the biggest rivals need to communicate. Even though Android and iOS are far from 100% synergistic, they have become closer in recent years.
It's now possible to transfer contacts from Android to iOS with relative ease. Why would I ever need to move my contacts from a Samsung Galaxy to an iPhone, you ask? There are plenty of instances where you'll need to know how to transfer contacts from Android to iPhone. The most obvious reason is that you've become tired of your current device and you want to switch operating systems. However, there are others.
Reasons to Switch Contacts from Android to iPhone
Buying a new phone
Syncing a private contact list to one on your work phone
Moving data from a work phone to a private phone
Retrieving data after your phone has been stolen
Whatever prompts you to move from Android to iPhone, you'll need to know how to handle it. And to guide you through the process, we've picked out the best ways to copy contacts from Android to iPhone.
We know the hurdles you'll have to clear and the dangers you might face, so we've created a step-by-step overview. Starting with the fundamentals of how to transfer contacts from Android to iPhone and ending with the best apps for the job, this guide is your ticket to a smooth ride.
Top Ways to Copy Contacts from Android to iPhone
Sim, Store and Save: A basic way to transfer contacts from Android to iOS is via your SIM card. By copying your address book to the SIM, you can simply remove it and put it in a new device. The only problem with this technique is that it won't carry any additional data. Therefore, if you want to move more than names and numbers, you need to try another method.
Send it to the Cloud: The beauty of using a Google-powered device is that you can easily send data to the company's cloud. Using the settings option on your device, go into "account" and switch on "sync contacts". From there, add your Google account. This will save all contacts to the cloud, meaning you can download the data to another device linked to your Google account.
Use a Dedicated App: The easiest way to transfer your contacts is by using a dedicated app that has been specifically designed to carry out the transfer. In our experience, Easy Backup is the best option that's currently available. By installing the app on each device, you can back up your contacts with just a few taps and then import them onto your iPhone. A great feature of this app is that your contact information will always be stored safely in your account, so you can transfer your contacts across safely and easily as many times as you need to.
How to Transfer Contacts from Android to iPhone the Easy Way
Scouring Google Play and the App Store, Easy Backup stands out as one of the leading contacts transfer products. Developed by Simpler Apps Inc, this application allows you to backup contacts locally and, more importantly, save them online so you can transfer them at a later date.
First off, you'll have to download Easy Backup from Google Play on your Android device and create an account. On your iPhone, download Easy Backup from the App Store and log into the same account.
Then, you just have to follow a couple of easy steps:
Step 1: Backup on Android
On your Android device, select "Backup"

Select "Tap to Upload". This will make your contacts available across any device with the Easy Backup app installed.

Step 2: Restore on iPhone
Open Easy Backup on your iPhone and select "My Backups".

Navigate to "Cloud Backups".

Choose the backup file you'd like to restore.

Tap "Tap to Download".

The app will show you a preview of your contacts.

Choose which of the contacts on display you want to have on your iPhone device. You can also restore all of them.

Tap "Restore Contacts".

Top Tip for Transferring Contacts from Android to iPhone
During our tests, we found the best way to copy contacts from Android to iPhone is to use the online upload function. By backing up your data to Easy Backup, your contacts are not only saved in a secure, off-device location but are accessible anywhere. What's more, you can bring in the Contacts Cleaner app to ensure your address book is free of duplicates and incomplete data.
After downloading your contact list, Contacts Cleaner will automatically review it and highlight any Android contact duplicates. From there, you can choose to delete all the identical entries or sift through them individually. Additionally, the app allows you to undo any changes, export data and move contacts between cloud accounts.
In practice, the process of transferring contacts from Android to iPhone and cleaning up the data goes as follows:
Using Easy Backup, backup your address book.
On your iPhone, go into the Easy Backup app and import the data from the cloud.
Exit Easy Backup and open Contacts Cleaner.
Allow the app to access your contacts and review the list of suggested mergers/deletions.
Authorize Contacts Cleaner to merge/delete contacts and take a look at your new iPhone address book.
By following the above steps, copying contacts from Android to iOS shouldn't be a problem. Using apps to save, export and import data via online services is the best way to ensure you never lose a phone number when you switch smartphones.