Best Duplicate Contacts Remover/Merge Apps
Want a Duplicate Contacts Remover App? We Rank the Best
The issue of duplicate entries causing annoyances on our mobile devices is a common one. As fixing this issue can require an enormous time investment, we thought it best to cover a much more efficient solution.
On this page, you'll find our best picks for apps that automatically detect and merge duplicate contacts, making this issue one of the past. So choose which section – Android or iPhone device – applies to you, and keep reading to find the perfect fit for all of your merging contacts needs.
Top Contacts Merge Apps for Android
Contacts Cleaner
Our pick for the best Android app for dealing with duplicate contacts is Contact Cleaner by Simple Apps Inc. Offering all the options users need, this app is a small download and will have you on your way within minutes.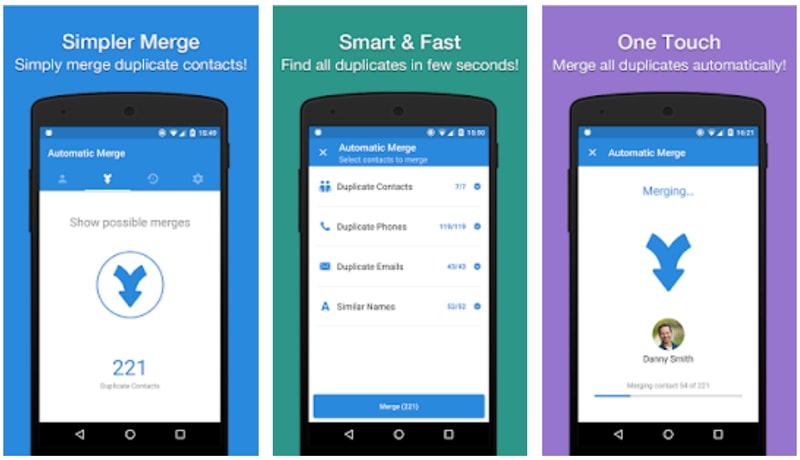 Main Features
Able to sort through enormous contacts lists quickly, this is just the latest in a line of quality software from this developer. If you own an Android phone and want to clean up your duplicates then look no further.
Pros
Fast system
Able to combine contacts from a variety of apps
Efficient and user-friendly design
Cons
Simple Contacts
Our number 2 Android pick is Simple Contacts by Simple Mobile Tools. This app allows users to manage contacts from a wide variety of sources. These can then be stored online, or saved as a file for later download onto another device.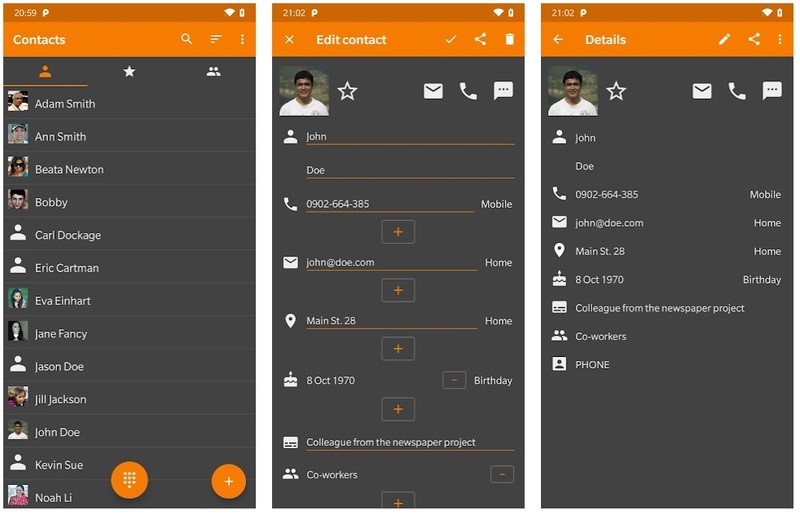 Main Features
Even better, this app lets you manage your emails and events, and comes with a filter to help you only back up those which are most important to you. Easy to use, and effective, this is a solid choice for many users.
Pros
Online and offline management possible
Filter systems to help sort contacts
Cons
Design is not always user-friendly
Merge+
Coming in at our number 3 for Android merge contact apps we have Merge+ by the team at Contacts Plus. As the name would suggest, Merge+ is an app solely dedicated to merging the duplicate contacts which clog up your communications lists.
Main Features
As a rare addition, this app even comes with voice support, and the ability to work with Android Wear such as smartwatches. It might not be as robust as some of the other options, but you can't fault that flexibility.
Pros
Voice support
Ability to work with Android Wear
Usability
Cons
Duplicate Contacts Fixer and Remover
This is the greenest option on the list - at least in the visual sense! Duplicate Contacts Fixer and Remover from Systweak Software Private Limited comes with one of the more visually pleasing designs, but that's not all – it's still a great tool.
Main Features
This app also allows its users to sync contacts lists across other devices. With both simple and advanced options, this app is a great fix for users of all experience levels.
Pros
Great looking design
Able to sync across devices
Cons
Can sometimes take a few attempts to clean
Contacts+ Pro
Finishing up our list for Android is Contacts+ Pro from the Contacts Plus team. Able to sync contacts over a range of devices into a single list, this program is a powerful one, but that can come with the cost of complexity.
Main Features
Those not afraid of a more difficult solution should absolutely consider this app for their needs, but otherwise, it might be a batter choice to stick to one of the more streamlined options above.
Pros
Wide range of options
Ability to work in related contexts
Cons
Top Contacts Merge Apps for iPhone
Contacts Cleaner
This might look familiar if you delved into the Android options above. Contacts Cleaner is the iOS version of the number 1 spot on the Android list, with all the fantastic options and ease of use of its non-Apple brother.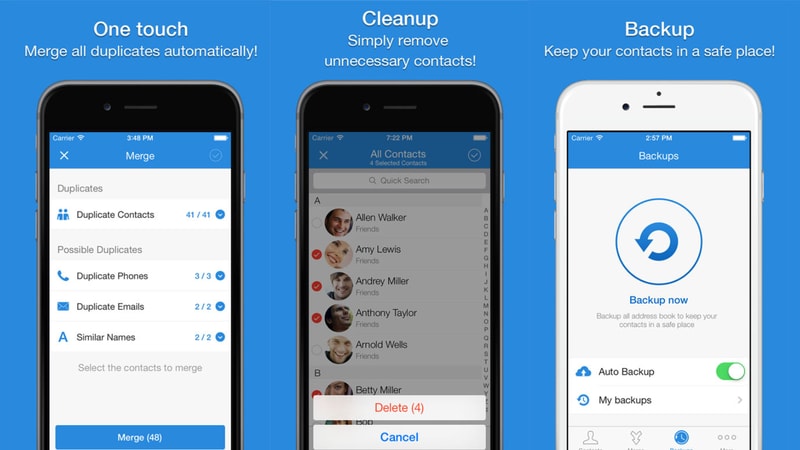 Main Features
Contacts Cleaner easily searches across all possible contact lists, building a database of duplicates which can then be merged with only a few taps. With the best combination of options and ease of use, Contacts Cleaner easily secures the number one spot on our list.
Pros
Fast system
Able to combine contacts from a variety of apps
Efficient and user-friendly design
Cons
Smart Merge
Number 2 is essentially a tie for first place. Smart Merge for iPhone comes with everything users need to clean up duplicates and merge contacts into one list, quickly, easily and efficiently. Smart Merge by centralizing contacts from multiple other apps into one main database.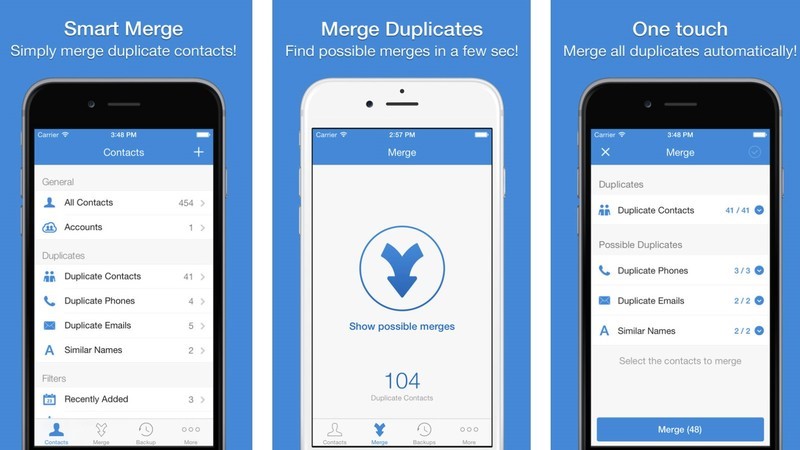 Main Features
The only downside, if you can call it that, is that as a dedicated and targeted app, Smart Merge only operates within the confines of contact lists, no other forms of merging are available.
Pros
Small download
Simple and user-friendly design
Great integration with other apps
Cons
Only works with contacts lists
Cleanup Duplicate Contacts
Filling the number 3 spot is the Cleanup Duplicate Contacts app for iPhone. A powerful app, Cleanup Duplicate Contacts lets you know exactly what it wants to do, and it accomplishes this goal with gusto.
Main Features
Setting this app apart is its ability to detect partial matches, which can then be sorted through manually if the user wishes to pick and choose certain bits of information. Those struggling with traditional merging issues should definitely consider turning to this app for their needs, as it is highly rated and already well-established.
Pros
Does exactly as the name suggests
User-friendly design
Partial match options available
Cons
Not as efficient as some of the competition
Only useful for contacts
Contacts Plus
This entry for iPhone also appeared on the Android list. Contacts + for iOS might not measure up to the high standards set by Contacts Cleaner, but it does come awfully close.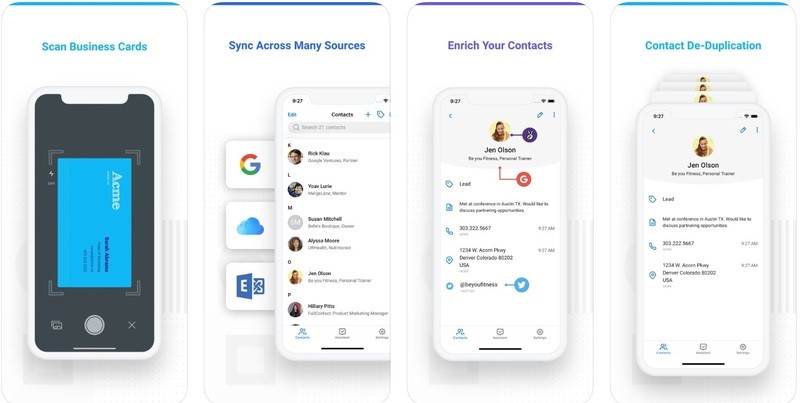 Main Features
As a broad tool, this app offers a wide range of possibilities which few other single apps can manage. This does, unfortunately, mean a more complicated app which might not be suitable for newer users. Still, this app can fill all of your contacts merge needs, and should not be ignored as a viable option.
Pros
Wide range of options
Ability to work in related contexts
Cons
Cleaner Pro
Finding its way to the final spot on this list for iPhone is Cleaner Pro. A basic option, that much is undeniable, but it still manages to cover common merging needs. One of the best features for this app is in the multitude of languages available, coming with support for 15 different languages in total.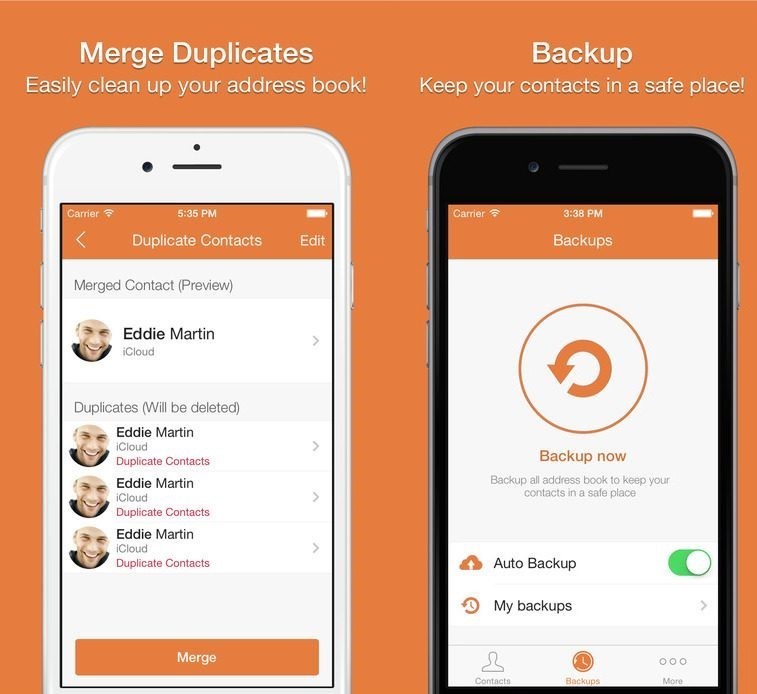 Main Features
We have to give credit to the design here as well.
Pros
Pleasing visual design
Simple systems
15 languages supported
Cons
Occasional sync issues reported
Not as robust as some other apps