The 10 Best Business Card Scanner Apps
Digitize Your Contacts with the 10 Best Business Card Scanner Apps
If you're tired of sorting through stacks upon stacks of business cards, we've got the solution. In the list below, you'll find the 10 best mobile business card scanner mobile apps on the market. Using your phone's camera to capture important contact data, these apps will digitize your business world and make lost details and annoying pieces of paper a thing of the past. As a result, you'll be able to add your business card contacts to your Android or iOS contact book to use whenever you see fit. 
ABBYY Business Card Reader
Like all the best business card scanners apps, ABBYY Business Card Reader captures contact data from whatever you put in front of it. However, where this business card scanner goes beyond the norm is to fill in the blanks in the following ways: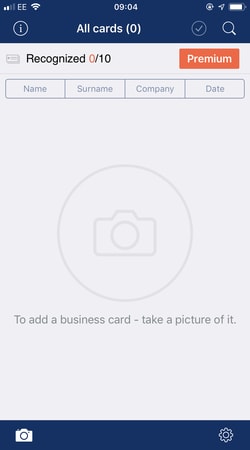 Main Features
• It can identify the edges of a business card and crop out unwanted backgrounds • It highlights unrecognized data • It automatically adds country codes • It fixes typos All of this and it will store email addresses, names, numbers and more. Moreover, you'll be able to share the data via email, vCard (VCF file), or JPEG files.
Pros
Works in 25 languages
Can fill in missing data
Makes it easy to share contact data
Cons
Can't read all types of information
CamCard
A robust business card scanner, CamCard is perfect for those who not only need to process stacks of cards but also share data in seconds.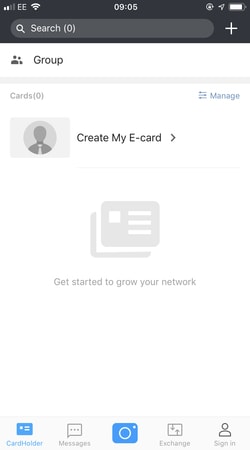 Main Features
CamCard is a top-rated business card scanner for a few reasons. Naturally, it uses OCR tech to read, process and store contact data. However, beyond that, it allows you to add notes and reminders to the cards it saves. What's more, there's a batch scanning feature that allows you to save contact info from multiple cards at once. Finally, the secretary scan mode allows you to invite personal secretaries to add contact details to your account.
Pros
Can be synchronized across multiple devices
Tracks contact detail changes
Powerful data sharing functionality
Cons
OCR has been reported as unreliable at times
Card Scanner by Zoho
For an all-round business contact and management service, Card Scanner is a good choice.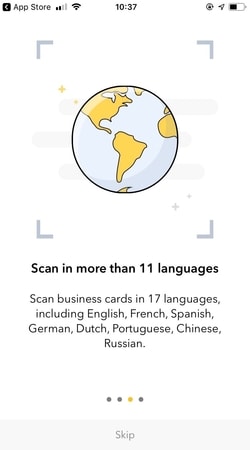 Main Features
Scanning business cards is part of the Zoho Workplace package. In terms of capabilities, Zoho's Card Scanner app reads and stores vital contact info from cards and, once processed, allows you to edit at will. However, where this business card scanner shines is with its management functions. For example, using the contact manager program, you can import phone numbers straight to your phone book as well as share via cloud services such as Google Drive and vCard. What's more, this app has productivity tools, an email facility and an invoicing feature.
Pros
A complete business management solution
Easily stores and shares all mobile contacts
Works in 14 different languages
Cons
Microsoft Office Lens
A complete document scanning app, Microsoft Office Lens allows you to process business cards and more using its leading OCR technology.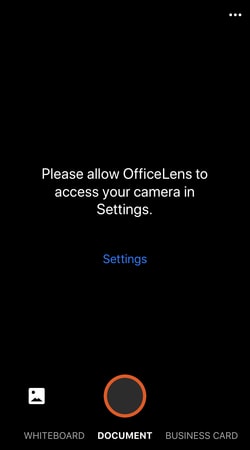 Main Features
This app isn't just a mobile business card scanner. Microsoft Office Lens can scan many different types of documents. However, it does have a business card mode which allows you to extract names, numbers, email address and more. What we love about it, however, is its flexibility. By combining the business card function with its ability to read other documents, you can create comprehensive contact lists that can be stored and shared with ease.
Pros
Reads different types of documents
Powered by Microsoft
Highly accurate data capture
Cons
The interface is a little complicated
CardHQ
Lightweight, simple but effective would be the best way to describe this completely free business card scanner app from CardHQ.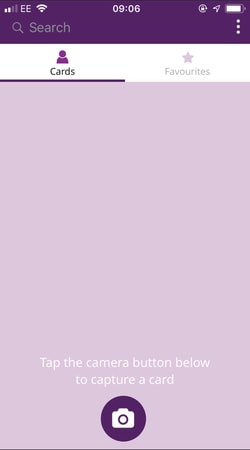 Main Features
If you're in need of a business card scanner that stores important data within three seconds and allows you to share it via email and social networks, CardHQ is great. Although it doesn't feature as many bells and whistles as its peers, this app does everything you need it to, which makes it great for casual users.
Pros
Completely free app and service
Interface designed for speed and efficiency
Can process batches of cards
Cons
Lacks the extras available in other apps
Contacts+
For a slightly different mobile business card scanner, FullContact (now Contacts+) fuses online technology with the power of human secretaries.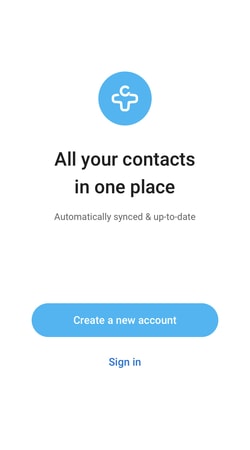 Main Features
Unlike its peers, this app doesn't rely on OCR tech. Instead, it takes a picture of each business card and sends it to a real person. This person is, in essence, your virtual secretary. They type up the information and enter it into your online contact list. All being well, this should take no more than 30 seconds and it means every piece of information is not only entered but given a human touch. In other words, any ambiguities aren't ignored, they're addressed and overcome.
Pros
Stores all data printed on a business card
Provides a human touch that can resolve issues before they arise
You don't have to do anything
Cons
Monthly fee
Processing may take slightly longer than an OCR scanner
Wantedly People
For batch-scanning tasks, Wantedly People is one of the top business card scanner apps on the market today.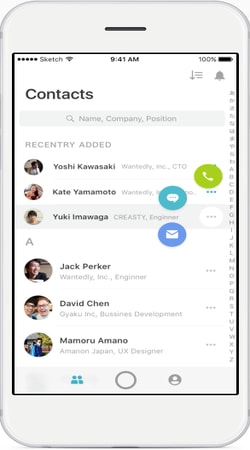 Main Features
As a business card scanner app, Wantedly People is simple but effective. It only pulls email addresses, names and phone numbers from a card. Because you can connect with others linked to the app and share data via encrypted services, it's a fantastic networking tool. For us, the main selling point is the batch-scanning function. Lay out 10 cards, move your mobile across them and voilà!
Pros
Scan up to 10 cards at once
Fantastic networking features
Easy-to-use interface
Cons
Only reads certain contact details
Evernote
Perhaps the best-known digital capture product out there, Evernote also allows you to store business contacts from multiple sources.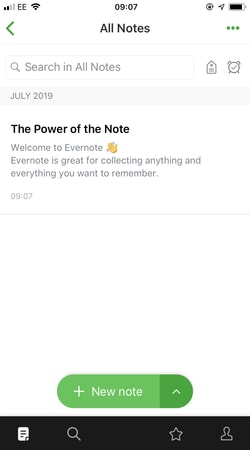 Main Features
Evernote can read, process and save digital data from a variety of mediums. Business cards have been added to the mix over the years, which means you can capture contact data using your mobile's camera. What's impressive about this product is that it can extract data from LinkedIn and match it to your saved Android or iPhone contacts so you have someone's complete business profile.
Pros
Leading brand in the business world
Captures data from a variety of sources
Cross-platform capabilities allow you to enhance contacts
Cons
A lot of features that can become confusing for novices
ScanBizCards
Although this business card scanner is ideal for individuals, its integration capabilities make it an essential tool for businesses.
Main Features
Like all the best business scanner app offerings, ScanBizCards allows you to pull data from cards and store it to your device. That's great if you're an individual. However, what this app does best is add contact details to customer relationship management (CRM) programs. This allows you to manage interactions, improve your customer service and drive up sales.
Pros
Great for improving customer service
Automatic error detection
Premium service for manual transcriptions
Cons
Some issues with email address scanning when handling large batches
Sansan
Sansan is an app that's set on turning all offline business cards into online entities.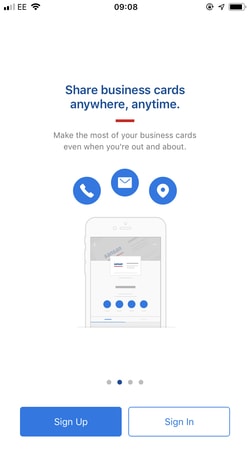 Main Features
Sansan can read and store business card data and then back it up to your iOS or Android just like you would with your phone contacts. However, its goals are loftier than that. Once the information has been processed, it's sent to a cloud server and added to an online database, which is open to all Sansan users. The aim is to phase out physical cards and encourage users to share virtual business cards and contacts.
Pros
Reads and stores contact information
Works in multiple languages, including English, German and Chinese
Bulk scans cards
Cons
Costs around $600 per month