The Best Contact Transfer Apps
Table of Contents
Need the Best Contact Transfer App? We Rate Them for You
There are many reasons why you might want to transfer your contacts from one device to another: general upgrades, sharing contacts between friends or updating contact lists from work, just to name a few.
While it is possible to do this manually, such a method is time-consuming and comes with a significant risk of user error. Knowing this, we decided to make a list to help you find the best contact transfer app for both Android and iOS.
So choose whichever is applicable to you, keep reading, and you'll solve any of your contact transfers issues in record time.
Top Contacts Transfer Apps for Android
Easy Backup
Our suggested choice when it comes to Android contact transfer apps is Easy Backup. Don't be fooled by the small download size, this app can do everything the user might need, and is user-friendly enough for anyone, regardless of experience.
Main Features
Easy Backup allows users to save their contacts either into a backup file, which can then be mailed, or directly to the cloud. All this takes just a few taps, so this app has established itself as the best in the Android class.
Pros
Easy to use
Works over both Android and iOS devices
Able to save to files and cloud systems
Cons
InTouchApp Groups & Contacts Transfer Backup Sync
Reaching the number two space is the InTouchApp Groups & Contacts Transfer Backup Sync app. Don't let the name scare you off, this is a great app with a wealth of features. Of course, it can transfer contacts, but the options don't stop there, with business-card scanner and QR management also offered.
Main Features
This can, on the other hand, make it a complicated choice for those who only want a simple method to transfer contacts.
Pros
Wide range of options
Small download size considering its features
Cons
Complex systems can be overwhelming
Many options can inhibit usability
My Contacts - Phonebook Backup & Transfer App
My Contacts - Phonebook Backup & Transfer from Telenor Capture follows in a similar vein as our number one spot: dedicated and rather easy to follow.
Main Features
However, some users of My Contacts - Phonebook Backup & Transfer App have complained about its integration and the fact that it might occasionally have trouble with restoration. We wouldn't expect this issue to last, though - the team cares about quality.
Pros
Small download
Simple instructions
Fast backups
Cons
Minor concerns with reliability
True Contacts
True Contacts seems to be the work of one very dedicated individual. This is an app specially made for Android and Android alone, which means it is very efficient when dealing with other Android contact apps and data structures.
Main Features
The downside of this is that it is not especially useful if you want to transfer contacts between Android and iOS devices. For that, you're going to have to turn to other apps on this list.
Pros
Tiny download size
Reliable and very quick
Cons
MCBackup - My Contacts Backup
This app is incredibly focussed, offering only the ability to back up and transfer contacts via files – no cloud syncs are available. The upside to this is a high level of dedicated professionalism.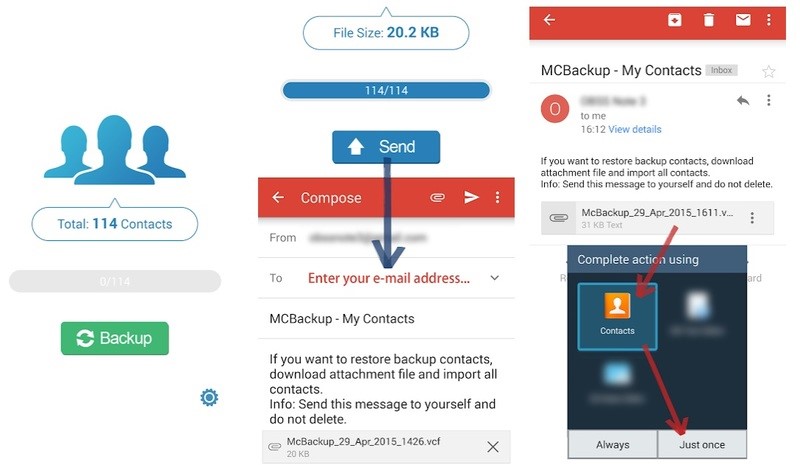 Main Features
The downside here is that this is an obvious limitation, with the more convenient option not available for users of this app. At least the small file size makes this a great choice for those with limited bandwidth, such as those using a public WiFi system.
Pros
Small file size
User-friendly design
Cons
Top Contacts Transfer Apps for iPhone
Easy Backup
Our number one choice of app for iOS matches the list-topper of our Android choices - it's Easy Backup again! Effectively the same app, the iPhone version succeeds just as the Android version did, with simple and effective systems, and multiple backup avenues.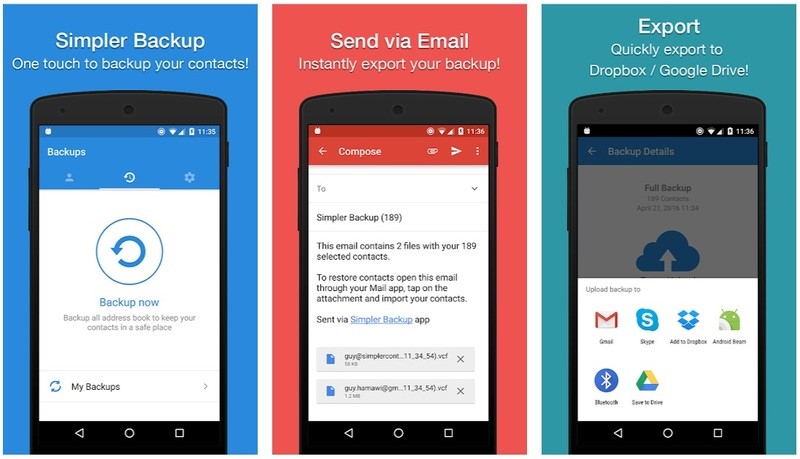 Main Features
We especially appreciate the ability to integrate apps with Easy Backup, so sending files for those who wish to avoid the simpler cloud-backup option - also included - is still a breeze.
Pros
Easy to use
Works over both Android and iOS devices
Able to save to files and cloud systems
Cons
Dr.Fone
This doctor succeeds through an ability to offer a wide range of iOS health options. Of course, contact transferring plays an important part here, but this is only the beginning.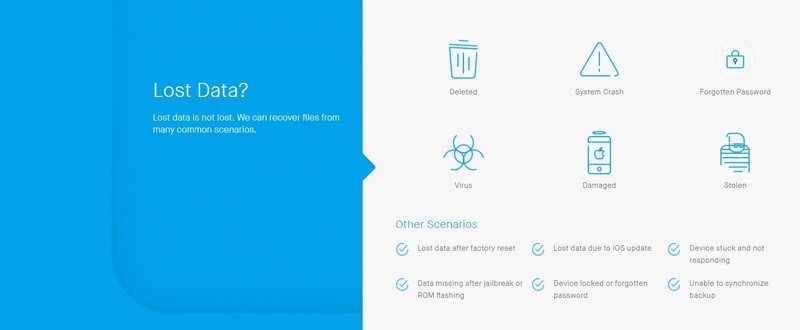 Main Features
Those who want a simpler experience, however, might find this program a little too broad for their needs. It's also one of the larger downloads, at around 45 megabytes. Download it at their official website.
Pros
Range of transfer options
Other uses such as virus protection included
Cons
Larger download
• We're not 100% sure an app can attain a doctorate
IDrive Online Backup
As the name suggests, this is an app for which online backups are the name of the game. It comes with the ability to transfer contacts, but also includes options like calendar, videos, and photo backups.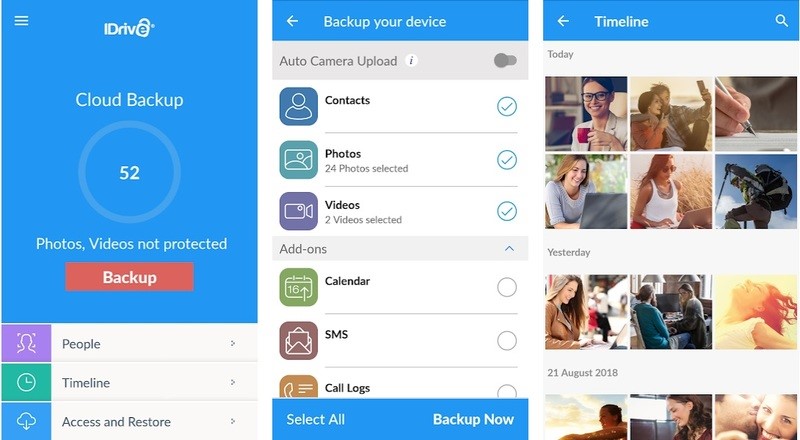 Main Features
The only major downside of this app comes from its download size, which sits at a much larger-than-average 140 MB.
Pros
Option for other popular forms of backup
Also available in Android version
Simpler than its power suggests
Cons
Backup & Import Contacts
Offering features such as one-touch backup and the ability to clean up contacts, this is a versatile app and one which should get any user on the right path. Even better, this one includes options to back up to other popular sources such as Outlook, Excel, and vCard files.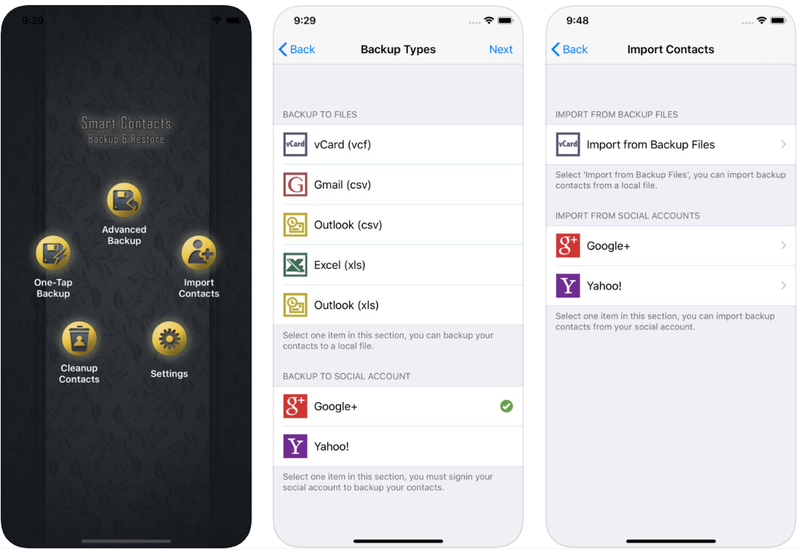 Main Features
So what puts it in the latter half of our list? A big part of this comes from the less-than-fantastic appearance. The look itself does not inspire quality, though the app itself performs very well.
Pros
Great selection of options
Fast file backups
Cons
Immediate Contact Transfer
The Immediate Contact Transfer app from CyberValue LLC is perhaps the simplest-looking app on this list, so it shouldn't scare away users no matter their level of technological mastery. This comes with the exact two options you need for contacts transfer, send and receive.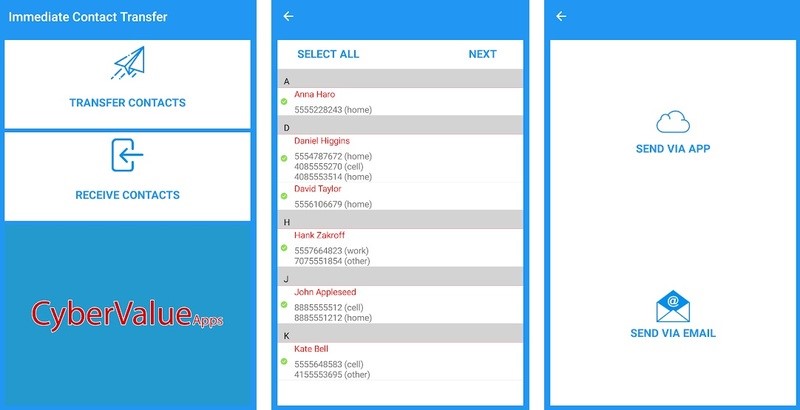 Main Features
The only issue here is that rather than using another account as a reference, this app requires users to manually copy their reference number down. This can cause issues of human error and is a little inconvenient.
Pros
User-friendly design
Cloud and contacts file transfer available
Cons
Requires a reference ID for automatic transfer