How to Restore Contacts on iPhone
Table of Contents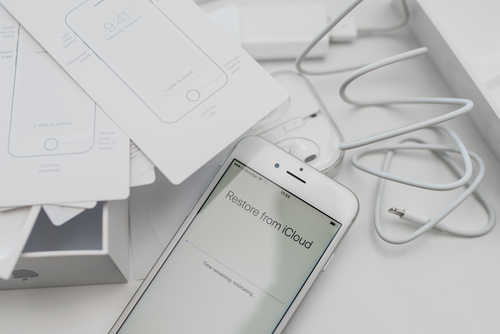 Restore contacts on iPhone: How to recover lost contacts
Losing data is an unfortunate reality with digital systems, even on devices as reliable as iPhones. Sometimes, we might accidentally pocket dial our way straight into deletion, our storage drives might fail, or family members playing with our phones might cause an accident. There is an enormous range of potential reasons why our contacts can disappear, few of which we ever see coming.
With that in mind, we made this guide so that you might restore what has been lost.
Hopefully, we can get back everything back in working order but, if not, we can at least help you to ensure this won't be an issue in the future. We also recommend checking out our suggestions in Part 3 even if you haven't had any trouble with your contacts yet. Easy Backup is a fantastic program, and backing up your contacts is the best choice for protecting against the worst becoming reality.
In this guide, we'll go over the following possible methods:
How to restore contacts from iCloud Backups
How to restore contacts from iTunes Backups
How to prevent future issues with the Easy Backup app
So, grab your iPhone, and let's begin.
Part 1: Restoration from iCloud Backups
One of the great things about Apple services is their ability to automatically backup your important information on the iCloud. This requires you to have your account synchronized with Apple's iCloud services beforehand, in which case the chances are good that your contacts still exist online.
The first thing you want to do in this case is to navigate to your iPhone settings and then press on the iCloud tab. From here, click on Contacts.
At this point, simply toggle your contacts off and then on again. This should prompt your phone to attempt to resync with the online backup.
You will be met with a message asking what you want to do with your existing phone contacts. Select Delete from My iPhone. This should cause your non-existent contacts on your phone to be wiped, and then replaced entirely with your online backup.
If that worked for you, continue to Part 3. If it didn't, then head on down to the next section.
Part 2: Restoration from iTunes Backups
Just as in the previous part, this method allows you to restore contact data from a separate backup, in this case from iTunes. This means that in order for this to work, you are going to have to have previously synced your phone with iTunes on a Mac or PC.
Before you begin, however, you should save all of the new data generated since the point you lost your contacts off of your devices. If you don't, it will be lost.
Once you've done this, the way forward is incredibly simple.
Connect your iPhone to the iTunes host computer
Launch iTunes
Choose your device from the list and head to the summary page
Select the date from which you wish to restore
Click the Restore Backup button
The downside to this method is that it will take your iPhone to that point in time you're restoring from, which means that it will remove any new data introduced since the restore point in question. This is why we recommended backing up your new data first.
If neither Part 1 nor 2 worked for you, then, unfortunately, your contacts are lost. Remember to check your email correspondence and you might at least be able to slowly rebuild your database.
Regardless of whether this worked or not, we would recommend continuing to Part 3.
Part 3: Preventing Future Issues with Easy Backup
Users might not want to rely on iCloud or iTunes backups for a number of reasons. These include:
An unwillingness to create an account.
Risk of other sensitive data being exposed.
The inability to use official programs on a company device.
Even if you have official backups, we still recommend using Easy Backup as a secondary program, for a myriad of reasons we'll explain below. It only takes a few minutes and gives more options than the alternatives.
Backing Up
Before we begin, you'll want to take ensure your phone is fully charged and then download the app.
The Easy Backup program can be found either from this direct link or by searching the App Store for "restore contacts iPhone" or "recover deleted contacts iPhone". The program you want is the one created by Simpler Apps Inc, with the following logo:
Download and install this app, then open it.
Be sure to give it the permissions it requires, and then tap through to the login page. This screen will associate your phone with an account for Google or Facebook. Choose the one you prefer, and continue.
On the main page, press the large backup button in the middle of the screen and select your choice of backup location. iCloud will allow easy restoration from the online server. Saving the file means you can transfer your contacts to another device or store or send the list to yourself via a communications app or email.
Wait for the app to backup your lists and, guess what? You're done!
Restoring
Restoring is just as simple as backing up.
Log in to the Easy Backup app with the account used to create the backup
Press the Cloud Backup button on the bottom of the screen
Select which backup you want to restore your iPhone contacts from
And you're done! It should be noted that if you chose a file backup rather than the cloud, you're going to have to transfer this file onto your device first by sending it via email so that the app has a way to find it. That's slightly more advanced as a method.
Backups are the Best Protection
Nobody ever expects to lose something as important as a contact list. When it happens though, we end up kicking ourselves over not seeing how possible this outcome could be. Even if you are heavily invested in iPhone safety, both on the software and hardware side of things, the unexpected can happen, and it can cause major problems.
By installing Easy Backup and keeping regular cloud or file backups, you can ensure that this will never happen to you, or at least will never happen to you again. It only takes a few minutes and can save you a future of lost time, annoyance, and possibly worse.