Top 10 Contact Backup App Options for Android and iOS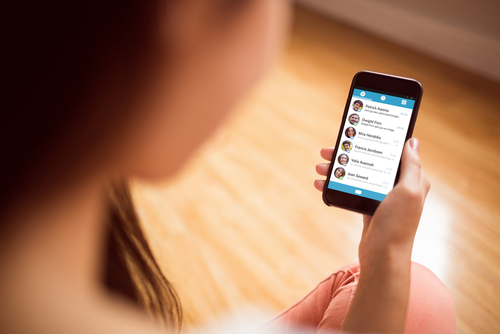 Need a New Contact Backup App? Here's the Best Around
From family members to college friends (and perhaps even some people you'd like to forget), many of us have lengthy contacts lists in our smartphones that we simply couldn't live without. But what happens if the data in our phones become compromised? What if our device is lost or stolen? What if we somehow accidentally manage to wipe our contacts list altogether?
Mac users have their own Apple backup system, and there's a basic contact backup feature built into many Android handsets. Basic is the operative word here, however, with these options not offering the increased functionality that can be found elsewhere.
So, what about people who own iOS and Android smartphones that are looking for a dedicated contact backup app with additional functionality?
Here's where our list of the top 10 best contacts backup apps – all of which are currently available from the Google and Apple stores – comes in handy:
Easy Backup
The very best contact backup app around is Easy Backup, which offers users a fantastic range of functionality and industry-leading sync and restore times.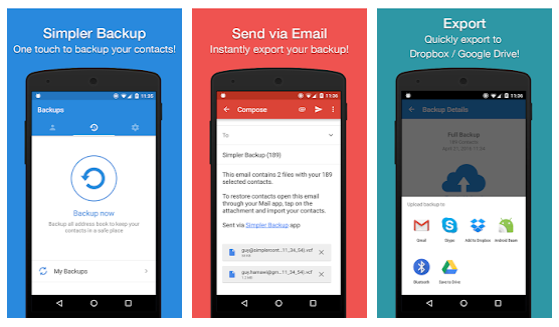 Main Features
This is an app that makes backing up your contacts as easy as the name suggests, with a simple one-click system that can export your contact lists to another device, to email or Excel, as well as a range of other applications. Your contacts will also be backed up to a dedicated cloud and can be easily transferred between your accounts. Available in 15 different languages, Easy Backup has an average rating of 4.6 out of 5.0 from over 27,000 reviews in the Google Store!
Pros
Online and offline backup available
Contacts can be easily restored from saved backups
Smart clean-up service
Cons
Contacts backup only – doesn't work with games etc
G Cloud Backup
G Cloud is another simple to operate app where you can save and store your contacts to more than one device or platform.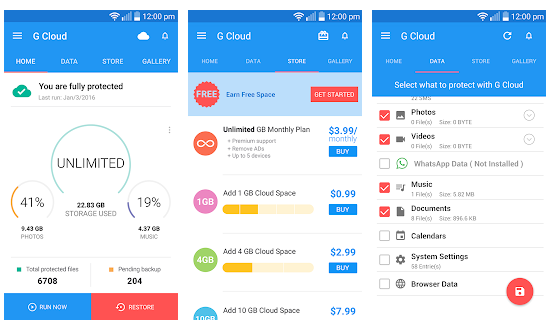 Main Features
You can enjoy up to 1GB of storage with the free version, and so you can back up your whole device – including photos and games. Choose whether you want to back up to the cloud, thus increasing your storage space, or via another hosting device such as another smartphone, a computer, an SD card, and so on.
Pros
Access your contacts on the web anytime
Auto upload when WiFi available
Can be used to back up Google Calendar
Cons
Occasionally slow customer support
Helium
One of the things that sets Helium apart from many of the backup apps is that it does not require rooting in order to work, which gives you plenty of flexibility when backing up.
Main Features
You can back-up your contacts and data to an SD card and other smartphones – even when they aren't on the same network. And a feature we particularly like is that you can schedule routine backups at a time to suit you; there's no need to manually order the app into action.
Pros
No rooting required
Schedule auto backups for a time when you're not using your device
Easy to install and use
Cons
Does not work well with Sony devices, particularly the Xperia series
Super Backup and Restore
The self-styled "fastest data backup and contact backup app for Android", there is certainly a satisfying speed with which Super Backup and Restore operates.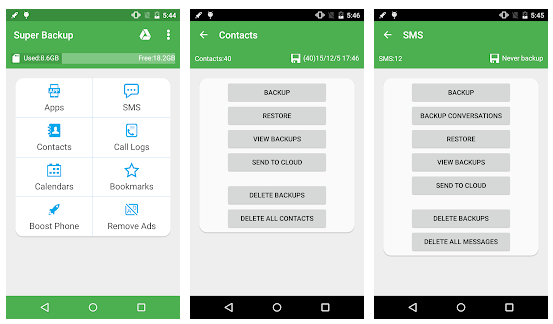 Main Features
You can back-up contacts, apps, texts, and calendars to your SD card, Google Drive or Gmail account and share APK files with one tap of a button.
Pros
Fast backups
Can share APK files with one click
Variety of back-up options
Cons
Titanium Backup
If you are able to root your chosen smartphone, Titanium Backup is considered one of the most secure apps for saving and storing your contacts.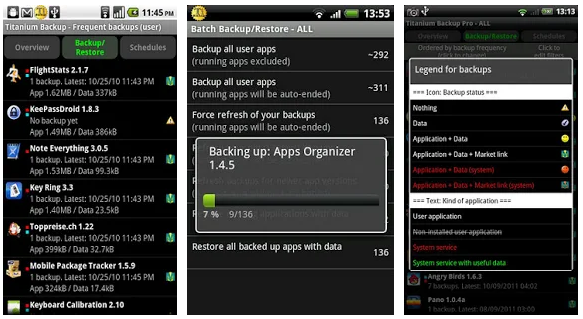 Main Features
In addition, the app allows you to browse your app's data using Titanium and schedule backups without needing to close down any other applications you might be currently using. Available in 32 different languages, Titanium is a solid choice for those with rooted Android devices.
Pros
Sync to SD, Google Drive, Dropbox and more
Can browse individual app data
Backups take place in the background
Cons
Have to root phone to utilize all features
MCBackup
There's not a whole heap of functionality to MCBackup, but if you want to carry out simple synchronization of your smartphone to a laptop or desktop then this app is a breeze to use.
Main Features
The process can take place offline too, so you don't need to rely on WiFi connections to ensure a reliable connection when syncing and backing up. The app doesn't offer much else in terms of storing and securing apps, photos and other mediums, but as simple contact backup goes this does the job in style.
Pros
Sync contacts book to chosen hardware
Works offline
Reminder service available via the app
Cons
Doesn't backup any data other than contacts lists
Contacts Backup
If you intend to solely back-up your contacts via Google Drive, the aptly named Contacts Backup offers a simple platform for you to do just that.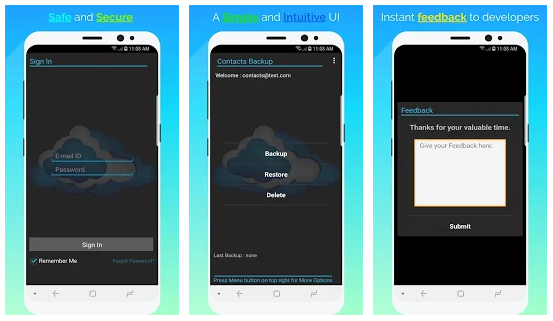 Main Features
Simply make a back-up, export the .vcf file and you're good to go: your whole address book will wing its way to your Drive folder. This is one of the most intuitive contact backup apps around, with an easy-to-navigate interface and sensible layout.
Pros
Secure back-up to reliable Google Drive
Auto-login speeds up the process
Cons
Limited functionality and options
My Contacts
This app was designed and built purposely to allow both iPhone and Android phone owners to store their contacts safely at another location.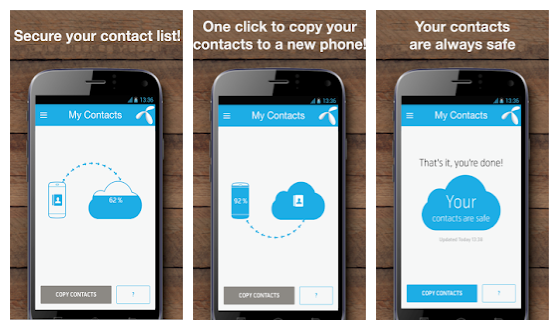 Main Features
With one click, your contacts book will be sent to your chosen destination – be it the cloud, an email address or an external storage device. The app is available on the vast majority of Android handsets too, including older generation models.
Pros
Completely secure process
No ads
Cons
Simple and lacking in functionality
123 Contact Backup
It's as easy as 1-2-3… at least, that's the idea behind this contact backup app.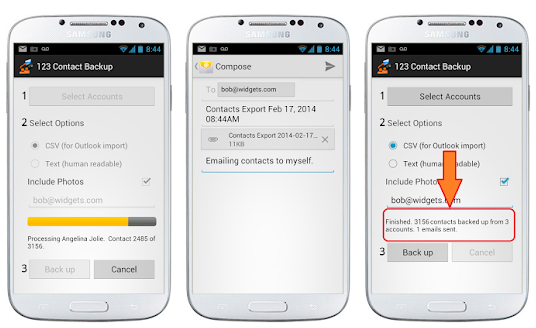 Main Features
This intuitive app is simple to use: simply select your contacts list, hit the 'backup' button and watch on as the power bar indicates when all of your numbers have been copied across. It's easy then to email the contacts list to yourself in your chosen file type.
Pros
Copies across contact images
Available on all Android devices
Cons
No options for backing up other data types
Contacts by Google
The media giant has its own backup system that Android users can deploy.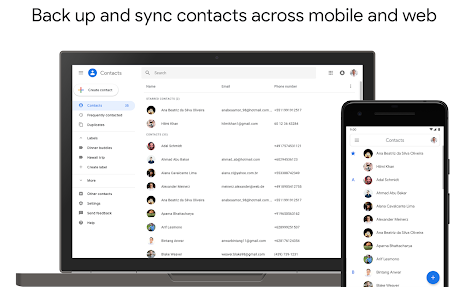 Main Features
This app will sync your device to a live Google account, so it's only available to users of Google Drive and the cloud. It offers plenty of functionality, including the ability to merge, delete and manage duplicate contacts.
Pros
Access your contacts from any device
Backed by Google security
Cons
Only Google customers can use it